The use of light treatmenteffect of facial and body care. Photodynamic equipment uses the most pure red,blue, infrared light as a light source. It can accelerate cell metabolism,anti-oxidation, anti-aging, sedation-sensitive muscle, get rid of acne, killbacteria. It is the real multi-functional beauty machine.
The 3 colors led light therapy machine works by LED light technology whichhas been used for several decades. Clinically proven effective for WrinkleRemoval , Acne treatment , Remove Age spots and Dark Pigmentation.
It is for skin rejuvenation and will not darken or tan the skin. The red,blue and IR light absorbed by the tissue promotes collagen production andelastin repair. Smooth the fine wrinkles , Improve Whitening . For acnetreatment , remove dark pigmentation , and other skin conditions. Normally usedfor face beauty, hand spa treatment , and other body area beauty treatment.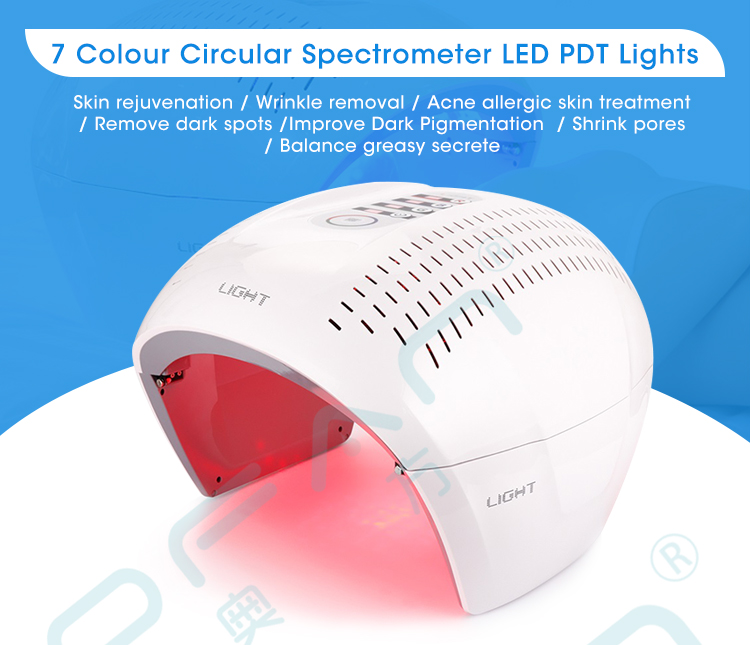 Application:
Face and hand spa treatment tobe beautiful and younger.
1.Skin Rejuvenation: Stimulates the production of collagen and elastin,Improves the tone and texture of the skin.
2. Wrinkle Removal: Minimizes the appearance of wrinkles, fine lines andcrow`s feet and minimizes pores.
3. Acne treatment: Porphyrins in the body absorbs blue light and makessinglet oxygen which destroys the bacteria creating acne.
4. Remove Age spots and Dark Pigmentation . Reduces melanin that causesage spots.
5. Minimizes the effects of sun-damaged skin.
6. Boosts moisture and circulation.
7. Reduces redness, flush and other forms of skin degradation.
8. Antimicrobial Effect: Improve cellular immune function and viabilitystrongly from disease. Photobiomodulation enhances cell proliferation againstthe bacteria that may cause disease in the blood or other tissues.